2011 SXSW Film Festival Award Winners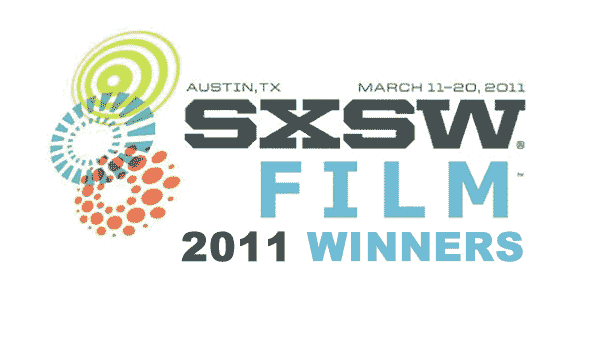 The Jury and Audience Award winners of the 2011 SXSW Film Festival were announced. Winning big this year was the comedy Natural Selection with seven different awards including Grand Jury Winner for Narrative Feature. Below are the full details from the official press release:
The Jury and Audience Award-winners of the 2011 South by Southwest (SXSW) Film Conference and Festival were announced tonight at the Festival's Awards Ceremony, hosted by comedian Owen Egerton in Austin, Texas. Feature Films receiving Jury Awards were selected from the Narrative Feature and Documentary Feature categories. New for 2011, films in competition were also eligible for Jury Awards for Best Editing, Best Cinematography, Best Score/Music, Best Screenplay (narratives) and Breakthrough Performance (narratives). Films in these categories, as well as Spotlight Premieres, Emerging Visions, Midnighters, Lone Star States and 24 Beats Per Second, were also eligible for 2011 SXSW Film Festival Audience Awards. Only Narrative and Documentary Feature, Spotlight Premieres and Emerging Visions Audience Awards were announced tonight. Lone Star States, 24 Beats Per Second and Midnighters Audience Awards will be announced separately on Saturday, March 19.
SXSW also announced the Jury Award-winners in Shorts Filmmaking and Film Design Awards, and Special Awards, including the Louis Black Lone Star Award, the SXSW Chicken & Egg Emergent Narrative Woman Director Award and the SXSW Wholphin Award. Details can be found at www.sxsw.com/film.
"It's been completely exciting to witness the overwhelming appreciation and acclaim for the 2011 SXSW Film lineup," said Film Conference and Festival Producer Janet Pierson. "The unique combination creative talents from music, film and technology all in the same environment has once again set an electric backdrop for our films, and across the board, the combustion of new talent, fresh perspectives, and the engaged community has been exhilarating. We are happy our Awards can honor even a sliver of the wide-ranging talent we were privileged to host this year."
The 2011 SXSW Film Festival Juries consisted of:
Narrative Feature Competition: Roger Ebert, Logan Hill, Michelle Satter
Documentary Feature Competition: Mark Olsen, Lisa Schwarzbaum, Sky Sitney
Narrative Shorts: Jon Korn, Jay Van Hoy, Rose Vincelli
Documentary Shorts: Brad Beesley, Jay Duplass, Amanda Micheli
Animated Shorts: Austin Kleon, Bill Plympton, Alison Willmore
Music Videos: Tom Blankenship, John Kunz, Ron Mann
Texas Shorts: Victor Diaz, Megan Gilbride, Adam Roffman
Texas High School Shorts: Cole Dabney, Marcy Garriott, Bart Weiss
Title Design: Ian Albinson, Jenny Lee, Tommy Pallota, Ron Pippin, Kurt Volk
Poster Design: Craig Crutchfield, Craig Denham, Marc English, Tim League, Charlie Loft, Danny Parker
Louis Black / Lone Star: Marjorie Baumgarten, Elvis Mitchell, Robert Wilonsky
For the 2011 SXSW Film Festival, 140 features, consisting of 66 World Premieres, 15 North American Premieres and 15 U.S. Premieres, were selected from a record 1,792 feature-length film submissions composed of 1,323 U.S. and 469 international feature-length films. 153 shorts were selected from 3,089 short film submissions. The nearly 300 films were selected from 4,911 overall submissions; a record number and a 23% increase over 2010. The 2011 SXSW Film Festival Awards were hosted by Ovation TV.
The 2011 SXSW Film Festival Award Winners:
Feature Film Jury Awards
DOCUMENTARY FEATURE COMPETITION
Grand Jury Winner: Dragonslayer
Director: Tristan Patterson
Best Editing: Where Soldiers Come From
Editors: Kyle Henry & Heather Courtney
Best Cinematography: Dragonslayer
Director of Photography: Eric Koretz
Best Score/Music: The City Dark
Music by: The Fishermen Three, Ben Fries
NARRATIVE FEATURE COMPETITION
Grand Jury Winner: Natural Selection
Director: Robbie Pickering
Breakthrough Performances:
Evan Ross – 96 Minutes
Rachael Harris – Natural Selection
Matt O'Leary – Natural Selection
Best Screenplay: Natural Selection
Writer: Robbie Pickering
Best Editing: Natural Selection
Editor: Michelle Tesoro
Best Cinematography: A Year in Mooring
Director of Photography: Elliot Davis
Best Score/Music: Natural Selection
Music by: iZLER, Curt Schneider
Feature Film Audience Awards
DOCUMENTARY FEATURE
Winner: Kumaré
Director: Vikram Gandhi
NARRATIVE FEATURE
Winner: Natural Selection
Director: Robbie Pickering
SPOTLIGHT PREMIERES
Winner: Becoming Santa
Director: Jeff Myers
EMERGING VISIONS
Winner: Weekend
Director: Andrew Haigh
*Audience Awards for 24 Beats Per Second, Lone Star States, and Midnighters sections will be announced on Saturday, March 19, 2011.
Short Film Jury Awards
NARRATIVE SHORTS
Winner: Pioneer
Director: David Lowery
DOCUMENTARY SHORTS
Winner: Mothersbane
Director: Jason Jakaitis
ANIMATED SHORTS
Winner: THE WONDER HOSPITAL
Director: Beomsik Shimbe Shim
MUSIC VIDEOS
Winner: Hollerado, "Americanarama"
Director: Greg Jardin
TEXAS SHORTS
Winner: 8
Director: Julie Gould & Daniel Laabs
TEXAS HIGH SCHOOL SHORTS
Winner: ( __ )
Director: Chad Werner
SXSW Film Design Awards
EXCELLENCE IN POSTER DESIGN
Winner: Silver Bullets
Designer: Yann Legendre
Audience Award Winner: Green
Designer: Adrian Kolarczyk
EXCELLENCE IN TITLE DESIGN
Winner: Blue Valentine
Designer: Jim Helton
Audience Award Winner: Blue Valentine
Designer: Jim Helton
SXSW Special Awards
SXSW WHOLPHIN AWARD
Winner: The Eagleman Stag
Director: Mikey Please
SXSW CHICKEN & EGG EMERGENT NARRATIVE WOMAN DIRECTOR AWARD
Winner: Sophia Takal for Green
LOUIS BLACK LONE STAR AWARD
Winner: INCENDIARY: The Willingham Case
Directors: Steve Mims & Joe Bailey, Jr.
KAREN SCHMEER FILM EDITING FELLOWSHIP
Presented to: Erin Casper