The Underdog: October 2014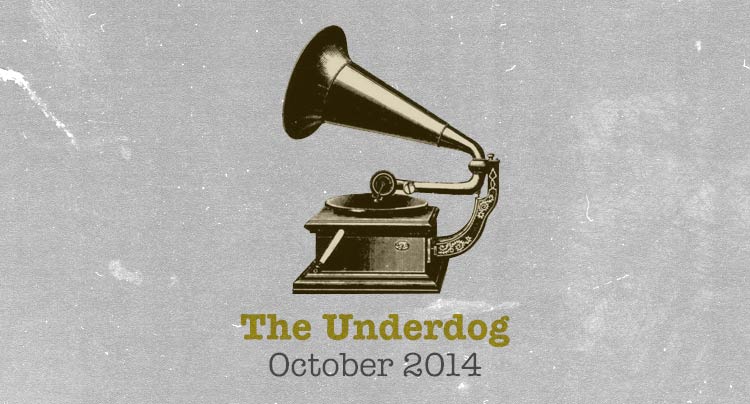 The first week of October was jam-packed with excellent releases by established or internet-hyped acts: Zola Jesus, Caribou, Flying Lotus, Iceage, Peaking Lights, The Rural Alberta Advantage, Johnny Marr, The Vaselines, SBTRKT…the list goes on. This makes it an ever-appropriate time to take a glance at smaller releases equally or more worth your time than these acts, hence the fourth edition of Way Too Indie's monthly music column The Underdog. If you're looking for a break from the same names that you've heard time and time again, here's where to turn.
Ausmuteants – Order of Operation
This one just storms right out of the gates. Appropriate for the month of its release, spooky synths introduce Order of Operation on first track "Freedom of Information." This song's kraut-indebted approach to punk is immediately enticing, and repeats throughout, with killer jams such as "1982" and "Stadiums" proving especially memorable. At times, the kraut-punk tendencies approach pastiche rather than originality, but this actually makes the album pretty hilarious and riotous. What band could write a song like "Felix" and not be a bunch of jokers? That's not to say Ausmuteants take making music likely, though; Order of Operation is pretty heavy, both in its sound and its impact.

Dinosaur Feathers – Control
Certainly weirder than 2012's Whistle Tips, Dinosaur Feathers' latest album portrays them restraining their abundantly gleeful pop tropes in favor of a more disco-indebted breed of synthetic music. Whereas past songs like "Untrue" got by on Bitte Orca-like, off-kilter guitar grooves, on Control, the rhythms are a lot simpler, allowing the vocals and digital elements to do the experimentation. Main songwriter Greg Sullo sounds more like Dave Longstreth than ever before, and the reverbed-out drum machines and wispy white synthetics of songs like "For Jonathan" also land in this avant-folk terrain. Elsewhere, "On My Mind" feels like a classic blues rock tune infused with an odd psychedelic airspace; "Zeitgeist" too blends brass and left-of-center sonic architecture into an entertaining tune. If anything, it sounds here like Dinosaur Feathers are intentionally exerting less Control over their sound.

Little Big League – Tropical Jinx
The sophomore effort from this Philadelphia four-piece has clear musical precedents in twinkly emo and 1990s bedroom sparsity, but sounds fresh while some other acts make fairly ordinary tunes in this style. Among this post-hardcore melancholy, there are songs like the punching, immediate "Sucker", the eerily dapper "Old Time Fun", and the doe-eyed "Deer Head", each equally riveting. Vocalist Michelle Zauner knows how and when to sing, shout, scream, and whisper, making her defeated, discouraged lyricism all the more potent. The band's guitars sound detached and dissonant, but carry a sense of melody and intrigue not as common in other bands of this style. This all makes for a great time, or as Zauner would put it on "Sucker", "This, this calls for some drugs!"

Nicholas Krgovich – On Sunset
How are more people not covering this album? Seriously, the Pitchfork crowd might get a real kick out of this one. Krgovich's got a voice like Dave Longstreth of the impossible-to-pinpoint Dirty Projectors, whose Amber Coffman is a close friend and collaborator; his arrangements testify to the innate appeal of the formerly maligned smooth jazz subgenre in the same way the rise of bands like Rhye and albums like Destroyer's impeccable, modern classic Kaputt have. If it sounds too good to be true, that's understandable, but it is true. This is a marvelous, gorgeous, playful album of vast appeal; "City of Night", for example, is equally likely to entrap fans of lounge music, dream pop, Italo disco, and low-key psychedelic music. "Who's gonna be there for me?" wonder warm, almost impossibly gripping female vocals in this song's chorus; with music this good, it's shocking that the answer to this question isn't "everyone."

Olivia Jean – Bathtub Love Killings
Olivia Jean is the vocalist and main songwriter of Third Man Records group The Black Belles. Bathtub Love Killings is kind of like Jean's Blunderbuss, then; although The Black Belles aren't broken up, it's an incredibly bluesy, fiery solo debut similar to Jack White's lone-star beginning. "Reminisce" has the same deep swagger as many of White's greatest moments, and "Haunt Me" has the soft glimmer of Blunderbuss' many gentler moments. That's not to say that Jean exists solely in White's shadow; rather, her music feels characteristically hers even though she has a clear guiding hand. The surprisingly breezy "Merry Widow" is most certainly a Jean-exclusive approach to blues rock, and the haunted-house piano-guitar interplay of "After the Storm" is just held back enough that it retains an idiosyncratic Olivia Jean touch. Sure, Jack White may have produced the album, but he's done it masterfully; Jean still shines brightly through her blatant influences.

Radiator Hospital – Torch Song
I'll concede that this album was actually released on the very first day of September, but I missed it last time and it truly deserves a mention. Radiator Hospital is a Philadelphia-based power pop band that make an art of balancing catchiness, poignancy, and vigor. Although they're only now beginning to receive the attention they deserve, one quick gloss over their Bandcamp shows that they've made lots of music in a very short time. Torch Song exhibits this tendency of proliferation in tip-top form: boasting 15 songs in just under 33 minutes with barely any filler, it's the best version of their jam-packed album style yet. Its best track, "Cut Your Bangs", is actually a far more melodic and affecting garage pop redo of a lo-fi acoustic stomp released around the same time last year. This improvement in recording quality is only one of the many huge steps forward this incessantly replayable, deeply lovable album makes. With songs as sharp as "Venus of the Avenue" and "Honeymoon Phase" in stow, the guest appearances by Waxahatchee's Katie Crutchfield on "Blue Gown" and "Five and Dime", as well as the spot her twin sister Allison Crutchfield of Swearin' gets on "Midnight Nothing", feel like a second layer of icing on an already delectable, immaculately formed cake.

Son of Stan – Georgia EP
Retrospection is a fad. But hey, with songs as strong as the ones on Son of Stan's Georgia EP, why not let the past stick around for longer? Through the ridiculously heavy phaser and nocturnal steam of "Feel Her Design", it's tough to take issue with this pilfering of old styles. Likewise, the glowing synth hue and watery guitar grind of "Harbor Boat" are too instantly gratifying to demean this EP as unoriginal borrowing. Best of all are the vocals, though; often drenched in reverb and other '80s effects, their eyes-shifting-across-the-crowd delivery is innately appealing. Imagine how great this would sound over the course of a full-length?

Useless Eaters – Bleeding Moon
Bleeding Moon continues in Useless Eaters' tradition of writing punk that's more clearly indebted to rock n' roll than most of the band's contemporaries. "Proper Conduct" becomes a halting, messy stomper that looks back on The Ramones' legacy; "Dungeon" pushes fuzzy power chords to their limit, which helps it sound like the band is in the same room as you; "Aftershock" is a strangely industrial-bound tune that recalls experimental heroes Suicide. In general, Bleeding Moon is a bit more experimental than prior Useless Eaters albums, but it's just as satisfying.

Wampire – Bazaar
Bazaar is somewhat of a comedown for the Portland, Oregon duo Wampire. Following the scuzzed-out psych-punk of last year's Curiosity, this sophomore album takes a far more relaxed route to trippy bliss. Single "Wizard Staff" wraps an '80s gloss and sparkle in layers of twangy, bright guitar, silky brass, and ghostly pianos; even the thornier "Bad Attitude" revels in nostalgia for a more instrumentally diverse, glam-infiltrated era of pop songwriting. This new take on their old sound doesn't bring Wampire down; instead, their new appreciation for the glitzy, frail jangle of past decades renders Bazaar a fascinating and riveting listen.