11 Modern Country Acts That Don't Suck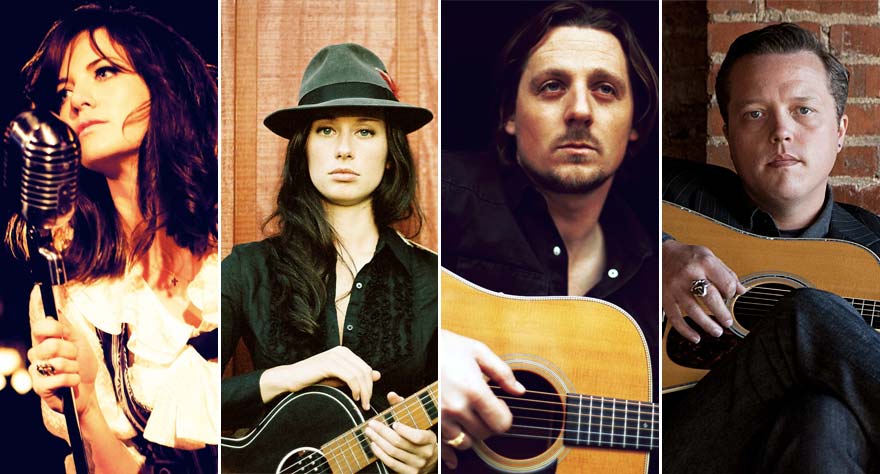 Despite being one of the most lucrative music genres in the industry and boasting a rabid fan base of millions upon millions, country music gets a bad rap from almost everyone who sits outside the phenomenon, and is arguably the most divisive genre out there. Country acts catch hate regularly for revisiting the same old themes and clichés over and over again (pick-up trucks, beer, partying, sweaty afternoons, car sex, and the list goes on). The tropes that get hammered into our heads on every country radio and TV station are insufferable at this point, even for country fans like myself.
Popular modern country is so formulaic it's absurd, and kinda funny. Nothing illustrates this better than a recent video YouTuber Sir Mashalot released back in November that's since gone viral. In the mashup video, Sir Mashalot (love the hell out of that name) weaves together six modern, successful songs by massive country artists like Luke Bryan, Florida Georgia Line, and Blake Shelton. They fit together so well it's scary, and a whole lot of fun at the same time.
Take a listen:
Crazy, right? These guys really brought the suck. After listening to that, it's hard not to dismiss modern country music altogether. It's a perfect encapsulation of everything wrong with what's on the radio and in your local amphitheater that's constantly filled with drunk rednecks singing along word for word with this "country" dribble.
But there's good news, my friends. I'll tell you this now, without hesitation: Not all modern country sucks. In fact, a lot of it is freaking awesome. With a little bit of searching (or perusing of this list) you'll find boundary-pushing artists on smaller record labels and a pack of surging songwriters in Nashville, all passionate musicians who aren't afraid to make dirty, truthful music that doesn't pander to the pop masses. They're out there, they're fantastic, and you need to lend them your ears.
Here are 11 modern country acts that prove real country music–that soulful, gutsy stuff–isn't dead; you've just got to dig to find the gold.
[Note: While I've picked 11 of my favorite modern country acts here, there are dozens of others to choose from. Honorable mentions include Kacey Musgraves, Todd Snider, Jennifer Nettles, Ashley Munroe, Justin Townes Earle, and Cory Branan. All equally worthy of your attention.]
Nikki Lane
Modern country may be a bit artistically impoverished on the surface, but just underneath you'll find gems like Nikki Lane, an East Nashville songwriter who recalls some of the greats of old, from Dusty Springfield, to Dolly Parton, to her most common comparison, the legendary Loretta Lynn. Nikki blazes her own trail, though, with her badass 2014 album All or Nothin' announcing her as a woman who owns her sexiness (try listening to "Sleep With a Stranger" without sweating) and thinks nothing of imposing her will on her male counterparts. "If you're looking for trouble honey, I can show you how," she sings in her smoky rasp on "Right Time". The Black Keys' Dan Auerbach produced All or Nothin' (you can hear it in the groovy percussion), and even lends his voice on the driving duet "Love's on Fire". Lane is sultry, powerful, bluesy, and the living, breathing remedy for all the bubblegum country acts everyone complains about so often.
Key Tracks: "All or Nothin'", "Right Time", "Sleep With a Stranger"
Sturgill Simpson
"There's a gateway in our minds that leads somewhere out there, far beyond this plane, where reptile aliens made of light cut you open and pull out all your pain." You'll find no country clichés in Kentucky-born songwriter Sturgill Simpson's cosmic trip "Turtles All the Way Down", the first track on his outstanding 2014 sophomore effort, Metamodern Sounds in Country Music. Simpson's booming, round voice (he's my favorite new vocalist in country today) is the key factor in selling the big ideas that permeate his songs. To be sure, Simpson's sound is deeply rooted in traditional country sounds (listen to him holler in "It Ain't All Flowers", but he's one of those special artists who can make the old sound new again. Sci-fi country isn't a proper sub-genre yet, but if Metamodern is a glimpse into what that might sound like, I'd be more than happy to invite more space cowboys to the rodeo. His less spacey debut, High Top Mountain, sounds more like a straight-up classic country record, and is just as enjoyable.
Key Tracks: "Turtles All the Way Down", "Life of Sin", "Time After All"
Lera Lynn
With a velvety, timeless voice that'll creep under your skin and haunt your daydreams, Lera Lynn has an eerie quality to her music that's strangely intoxicating. With a title like "La Di Da", you'd think the lead single off her latest album, The Avenues, would be some cute, frilly song, maybe about strolling through a garden on a sunny day. Instead, what you'll find when you hit play is an epic, eerie anthem about the "lie that is love". Lynn's vocals are so delicate and unctuous that, when combined with her evocative lyrics, will leave you equal parts devastated and infatuated. Her 2011 debut, Have You Met Lera Lynn? is terrific, and don't miss her unbelievably dope cover of TV On the Radio's "Wolf Like Me" on YouTube. Lynn may not be categorizable as a strictly country artist for much longer (she admires artists who branch out), but for now she represents the genre as well as anybody.
Key Tracks: "La Di Da", "Out to Sea", "Bobby Baby"
The Secret Sisters
Laura and Lydia Rogers are sisters from Alabama who've been singing classic country tunes together since they were kids, and have now developed into the best harmonizers in the business, in my eyes (ears?). There's something magical about how perfectly their buttery voices mix, whether singing originals like the pleading "Black and Blue", or updating classics like Frank Sinatra's "Something Stupid". While their self-titled debut album was more of a throwback country record (it's dripping with Grand Ole Opry nostalgia), more varied musical influences seep into their latest release, 2014's Put Your Needle Down, in which the sisters explore rockabilly, rock, blues, and pop, while never eschewing their country roots. "Dirty Lie" was an unfinished track by Bob Dylan the folk icon sent to the sisters via their producer, T Bone Burnett, to complete and include on Put Your Needle Down. The sisters rose to the challenge mightily; the results are haunting and rich and oh so slick.
Key Tracks: "Dirty Lie", "Rattle My Bones", "Good Luck Good Night Goodbye", "The One I Love is Gone"
Jason Isbell
Another Alabama native, Jason Isbell is perhaps the most polished songwriter on the list. A former member of Drive-By Truckers, Isbell gained both critical and fan acclaim with his 2013 album, Southeastern, an intensely personal collection of songs he wrote following a hard-fought battle with alcoholism. His road to recovery (facilitated by his wife, bandmate, and excellent artist herself, Amanda Shires) didn't inform the songs' lyrics as much as you'd expect, but the album isn't lacking for heavy subject matter: "Live Oak" is a fictional narrative about a murderer haunted by the ghost of his former self, and "Elephant" is the most veracious song about cancer I've ever heard. The tender-but-powerful "Cover Me Up" is arguably his most beloved track, which makes sense once you hear him croon this tear-jerking promise to his wife: "I sobered up, I swore off that stuff, forever this time." Isbell's a long-time admirer of Ryan Adams (one of my all-time favorites), a songwriter with whom he shares fine qualities.
Key Tracks: "Cover Me Up", "Live Oak", "Elephant"
John Fullbright
An adroit lyricist with a weighty, stripped-down style, John Fullbright is young (26), but comes across as incredibly wise for his age. Take for instance both the playfulness and sagacity in the delectably meta line "think a thought about the very thought you think, hold the pen and write a line about the ink", from his artist's ballad "Write a Song", off his 2014 album Songs. An Oklahoma native, Fullbright uses restrained instrumentation (particularly on Songs) to act as a blank canvas, so that his intricately crafted lyrics have all the room they need to do their work. It's like he was born to conjure these words: In an interview with NPR in 2012 about his debut record, From the Ground Up, Fullbright illustrates beautifully his connection to his songs by invoking the farmhouse he grew up in: "Every song on this record was written in that house, and I was kind of written in that house."
Key Tracks: "Happy", "Write a Song", "Gawd Above"
Sundy Best
As far as the trendy Nashville music scene goes, Sundy Best–a Kentucky duo made up of childhood friends Nick Jamerson (guitar, vocals) and Kris Bentley (cajón drum)–are outliers, though catchy tracks like the groovy, stomping "NOYA" and the infectious, hooky "Until I Met You" prove there's plenty of room for everybody to carve out a spot for themselves in the sprawling country landscape. Jamerson's piercing vocals soar above the instrumentation, which isn't as bare as you'd expect from a guitar-cajón duo. A mix of country, bluegrass, folk, rock, and a little pop, Sundy Best has a youthful, bright quality to their music that'll catch your ear from a mile away. What makes them special, I think, is that when they're strumming and banging on their instruments, they always seem to be having the best time ever. "We just want to be as much of ourselves as we can," Bentley says in an interview on the band's website. Rock on, boys.
Key Tracks: "Southern Boy", "Until I Met You", "NOYA"
Lori McKenna
Country music appeals to me most when it's cut-and-dry, soul-baring songwriting with no fuss and fluff to get in the way. Harlan Howard's definition of a great country song is still best: "Three chords and the truth". Lori McKenna is an immensely talented songsmith, a writer with a command over words so divine that you can't help but feel for her. Feel with her. On her latest effort, Numbered Doors, she tackles dark, difficult material with a guitar, beautiful melodies, and invented characters. Her previous album, Massachusetts, was a more personal affair, with bracingly naked lyrics like, "you ain't worth the spit in my mouth when I scream out your name." Damn. It's hard to think of another artist more candid.
Key Tracks: "Make Every Word Hurt", "All a Woman Wants", "Stranger in His Kiss"
Caitlin Rose
Caitlin Rose was born Dallas, Texas, but as a musician she's synonymous with Nashville; her music's built from the same fundamentals that built Music City. Broken hearts, trampled hearts, mended hearts–Rose loves singing songs about love, much like her predecessors Tammy Wynette and Patsy Cline. Her critically acclaimed 2013 album, The Stand In, is a no-bullshit response to the throwaway country stinkers on the radio that inspired this very list. She sings that she wants to "dance on broken glass and destroy all these beautiful things" over pounding drums on the album's penultimate track, "Menagerie". She adds an interesting wrinkle to her traditional country approach in the form of some super-cool covers: she covered the Rolling Stones' "Dead Flowers" back in 2008, released a Record Store Day 7″ of two Arctic Monkeys songs in 2012, and reworked The National's "Pink Rabbits" (one of my favorites) in 2013.
Key Tracks: "I Was Cruel", "Only a Clown", "Pink Rabbits"
Robert Ellis
As I listened to Robert Ellis' music in preparation for this piece, the thing that struck me immediately was how cinematic his songwriting is. I got completely and utterly lost in the song Chemical Plant (I listened to it five times in a row), a ballad of two lovers who cling to each other for dear life as the dark world threatens to swallow them up. The song's off of his 2014 sophomore effort, The Lights From the Chemical Plant, an atmospheric record fueled by pathos and blanketed by shadowy instrumentation. It's perfect rainy-day listening, and if you're into artists who tell you a story and take you on a journey, Ellis is your man.
Key Tracks: "Chemical Plant", "Good Intentions", "Houston"
Hurray For the Riff Raff
Hurray For the Riff Raff is one of my favorite band names of the past decade, though it actually isn't a band name at all; Hurray For the Riff Raff is Alynda Lee Segarra, Puerto Rican, Bronx-raised folk singer who learned how to play music on the streets of New Orleans. Her critically-heralded 2014 release, Small Town Heroes, is an affectionate ode to NOLA and the South and the dear friends she met there, and an adventure in subversion: some songs are revisions/responses to already-existing ones, like "The Body Electric", a play on the folk standard "Delia's Gone", which had been recorded by Johnny Cash, Bob Dylan, and others. Segarra's husky voice commands attention while still sounding effortless, and the songs feel unstuck from time, sounding at once plucked from a bygone era and decidedly contemporary.
Key Tracks: "The Body Electric", "End of the Line", "Fine and Mellow"